Palmitoylethanolamide
Palmitoylethanolamide (N-(2-hydroxyethyl)hexadecanamide of palmidrol, afgekort PEA) is een vetzuuramide dat van nature voorkomt in het menselijk lichaam.
Figuur 1. Molecuulstructuur van palmitoylethanolamide.
Palmitoylethanolamide heeft drie hoofdfuncties in het lichaam: celbescherming, ontstekingsremming en pijnstilling. Palmitoylethanolamide is aanwezig in vele lichaamscellen en weefsels. Het is essentieel voor de bescherming van cellen en weefsels tegen schadelijke prikkels die kunnen ontstaan door zuurstoftekort, mechanische schade of schade door ontstekingen (inclusief chronische laaggradige ontstekingen). Daarnaast is palmitoylethanolamide een ontstekingsremmende stof die onder andere een bewezen werkzaamheid heeft bij griep en verkoudheid. Ten slotte is palmitoylethanolamide een bijzonder goede pijnstiller, met name bij chronische pijnklachten. Het is een belangrijke nieuwe bijwerkingsvrije behandelmogelijkheid voor pijn en een grote doorbraak op het gebied van chronische pijnbestrijding.
Palmitoylethanolamide normaliseert uit balans gebrachte biologische processen zoals chronische ontstekingen of beschadigingen door trauma of zuurstofgebrek. Dit gebeurt onder andere via de invloed op een bepaalde kernreceptor [1], die de PPAR [2] receptor genoemd wordt. Deze kernreceptor herstelt het evenwicht in cellen die uit balans gebracht zijn waardoor deze cellen niet langer te veel ontstekingsfactoren en pijn bevorderende stoffen aanmaken (zie afbeelding).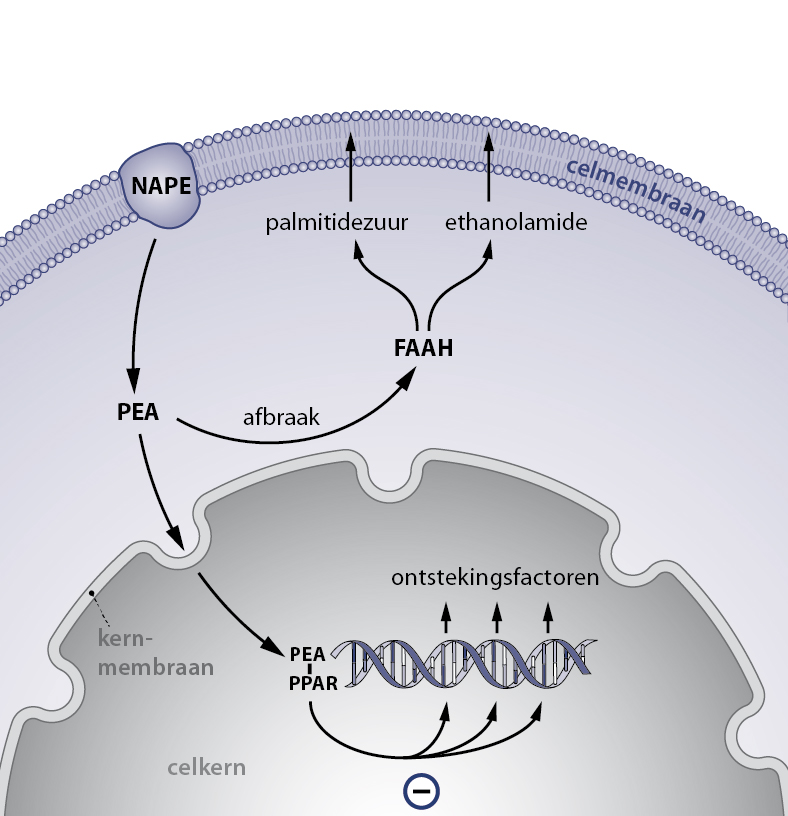 Het activeren van deze kernreceptor speelt dan ook een belangrijke rol bij pijnstilling. Palmitoylethanolamide kan in veel cellen gevormd worden en kan op deze manier werkzaam zijn bij chronische pijnklachten. Het maakt namelijk deel uit van een natuurlijk anti-pijn systeem in ons lichaam. Bij elk chronisch pijnsyndroom vindt er overmatige activatie plaats van bepaalde cellen die bij ontsteking een rol spelen, zoals de mestcellen [3] en de gliacellen [4]. Sinds een aantal jaren is bekend dat deze niet-neuronale cellen chronische pijn in stand houden. Daarom is het van groot belang deze geactiveerde ontstekingsachtige cellen in hun overmatige activiteit te remmen. Dat is precies wat palmitoylethanolamide doet. Het brengt deze cellen weer tot rust, waardoor chronische pijnsystemen in het lichaam aanmerkelijk zullen verminderen.
De werking van palmitoylethanolamide (PEA) is in de jaren 90 ontdekt door Nobelprijswinnares Rita Levi-Montalcini. Sinds die tijd zijn er vele (o.a. klinische) onderzoeken gedaan met PEA en is er gaandeweg meer bekend geworden over de werkingsmechanismen. Er zijn inmiddels meer dan 300 wetenschappelijke publicaties over deze stof.
Verklarende woordenlijst
1. Kernreceptor
Een receptor die zich bevindt in de celkern en die kan binden met bepaalde stoffen zoals hormonen. Door de binding van deze stoffen aan de kernreceptor oefent deze vervolgens invloed uit op het DNA waardoor bepaalde genen vervolgens meer of minder tot expressie komen (een voorbeeld hiervan is dat palmitoylethanolamide bindt aan de kernreceptor en deze het DNA zodanig beïnvloedt dat de aanmaak van ontstekingsfactoren verminderd wordt).
2. PPAR receptor
Peroxisome proliferatoractivated receptor; een specifieke kernreceptor die voorkomt in verschillende soorten weefsels. Oorspronkelijk werd gedacht dat deze receptoren het aantal peroxisomen (een celorganel dat onder andere voor de detoxificatie van bepaalde schadelijke stoffen kan zorgen) in de cel konden laten toenemen. Later bleek dat PPAR receptoren veel meer functies hebben en dat ze een essentiële rol spelen bij de celdifferentiatie, ontwikkeling en het metabolisme van hogere organismen.
3. Mestcellen
Cellen die onder andere in het slijmvlies van de luchtwegen, neus en darm voorkomen, maar ook in de huid en andere weefsels. Deze cellen produceren onder andere histamine dat wordt opgeslagen in korrels. Mestcellen kunnen geactiveerd raken door bijvoorbeeld beschadiging of contact met een allergeen. De inhoud van de korrels wordt dan vrijgegeven en veroorzaakt een ontstekingsreactie.
4. Gliacellen
(Grieks: glia = lijm) nietneuronale cellen die in het zenuwstelsel voorkomen en de neuronen beschermen en verzorgen. De verhouding gliacellen/ zenuwcellen is ongeveer 10:1. In tegenstelling tot de neuronen zijn gliacellen wel in staat zich te delen.
Bronnen
Palmitoylethanolamide (PEA) is een lichaamseigen stof die in de cel aangemaakt kan worden als reactie op bepaalde prikkels, zoals de aanwezigheid van vrije radicalen. Ook bevat voedsel kleine hoeveelheden van deze stof, met name eieren, pinda's, soja, (orgaan)vlees en vis.
Kwaliteitsaspecten
Voor een optimale opname en benutting van palmitoylethanolamide is het van groot belang om te kiezen voor een voedingssupplement dat zo zuiver mogelijk is, een hoge dosering palmitoylethanolamide heeft (bijvoorbeeld 400 mg per capsule) en geen onnodige additieven bevat. PEA-supplementen met het PEA opt® keurmerk bevatten palmitoylethanolamide met de hoogste zuiverheid en kwaliteit, en een optimale opneembaarheid. Een gepatenteerd productieproces zorgt voor PEA-deeltjes met verschillende grootte (verkleinde, verfijnde en ultra-verfijnde deeltjes) in een specifieke verhouding. Palmitoylethanolamide dat niet op deze speciale manier behandeld is, kan moeilijker opneembaar zijn voor het lichaam en daardoor minder werkzaam zijn.
Indicaties
Chronische pijnen, zoals pijnen bij:
artrose en artritis
migraine
menstruatie
bekkenaandoeningen
prostaataandoeningen
endometriose
chronische lage rugpijn
chronische onbegrepen buikklachten
nekpijnen en whiplash klachten
fibromyalgie
pijnen na kiesextracties
viscerale pijnsyndromen
(nachtelijke) spierkrampen
Neuropathische pijnen, zoals pijnen bij:
hernia
carpaletunnelsyndroom en andere zenuwbeklemmingssyndromen
gordelroos
multiple sclerose
pijnen en spasmen na een beroerte
chronische idiopathische axonale neuropathie
diabetes type 1 en 2
chemokuren
bestralingen bij kanker
complex regionaal pijnsyndroom* (CRPS) of Sudeck pijnen
neuralgische pijnen
Chronische ontstekingen, zoals bij:
chronische laaggradige ontstekingen
degeneratieve aandoeningen, zoals de ziekte van Alzheimer en de ziekte van Parkinson (sinds enkele jaren is duidelijk aan het worden dat bij degeneratieve ziektebeelden neuroinflammatie een grote rol speelt; er zijn alleen nog geen klinische studies gedaan naar de effecten van palmitoylethanolamide bij deze aandoeningen)
multiple sclerose (MS) en amyotrofische lateraalsclerose (ALS)
chronische darmontstekingen (ziekte van Crohn, colitis ulcerose)
metabool syndroom
atherosclerose
kinkhoest
vaginitis, vulvodynia, vestibulitis
blaaspijnsyndroom
Acute ontstekingen, zoals bij:
griep
verkoudheden
acute trauma's
Contra-indicaties
Bij een klinische lever- of nierinsufficiëntie kan het raadzaam zijn de dosering op te bouwen. Begin dan met 400 mg per dag en bouw het binnen een week op tot de normale dagdosering van 1200 mg. Er zijn onvoldoende gegevens bekend over de veiligheid van PEA Pure tijdens de zwangerschap. Om deze reden wordt gebruik tijdens zwangerschap afgeraden.
Gebruiksadviezen
Gedurende de eerste twee maanden driemaal daags 400 mg bij een maaltijd met ruim water innemen. De dagdosering kan ook in twee keer ingenomen worden (bijvoorbeeld in de ochtend 800 mg en 's avonds 400 mg). Indien na één maand te weinig effect wordt bemerkt, kan de dosis verdubbeld worden. Voor een snellere werking kan het zinvol zijn om capsules te openen, de inhoud op een lepeltje te doen en onder de tong te strooien. Laat het poeder dan zo veel mogelijk in de mond oplossen.
Gebruikers van palmitoylethanolamide merken meestal verbetering in de eerste weken van het gebruik. Pas na twee maanden consequent gebruik kan de werking van palmitoylethanolamide goed beoordeeld worden. Vanaf dat moment wordt duidelijk of langer gebruik zinvol is. Wanneer na twee maanden het gewenste effect bereikt is, kan de dosering in veel gevallen worden verlaagd naar tweemaal daags 400 mg.
Vanaf vier maanden kunt u overwegen om:
door te gaan met de inname van tweemaal daags 400 mg
de inname terug te brengen tot eenmaal daags 400 mg
de inname te beëindigen
Indien het resultaat na het verlagen van de dosering afneemt, wordt geadviseerd om de dosering weer te verhogen tot twee- of driemaal daags 400 mg.
Als onderhoudsdosering voor mensen zonder ernstige gezondheidsklachten kan circa 400 mg per dag worden aangehouden. Als profylactische dosering ten tijde van griepepidemieën kan tweemaal daags 400 mg genomen worden. Bij het uitbreken van griep is 1200-1600 mg per dag aan te bevelen.
De opname van palmitoylethanolamide is vermoedelijk beter als het supplement na de maaltijd wordt ingenomen, maar daar is geen duidelijk onderzoek naar gedaan.
Interactie
Er zijn geen negatieve interacties waargenomen van palmitoylethanolamide met reguliere medicatie. PEA Pure kan dus zonder bezwaar naast medicatie gebruikt worden.
PEA kan de werking van reguliere pijnstillers zoals opiaten, amitriptyline en pregabaline versterken (positieve interactie). PEA kan desgewenst ingezet worden om de dosering van reguliere pijnstillers te verminderen, of deze zelfs na enige tijd te vervangen.
Palmitoylethanolamide beschermt tegen toxische effecten van cytostatica. Aanbevolen wordt, indien mogelijk en in samenspraak met de oncoloog, om palmitoylethanolamide (1200 mg/dag) te starten voor de chemokuur en het middel pas te stoppen enkele maanden na de chemokuur. Voorts heeft palmitoylethanolamide een intrinsieke anti-tumor werking, waardoor het toedienen van een chemokuur samen met palmitoylethanolamide een dubbel therapeutisch effect kan hebben: een betere werking van de chemokuur en een betere bescherming van de lichaamscellen tegen de bijwerkingen van de chemokuur.
B-vitamines (waaronder vitamine B1, B6 en B12) hebben een synergetische werking in combinatie met PEA. Zorg daarom dat de dagelijkse inname van B-vitamines voldoende is, bijvoorbeeld door aanvulling van de voeding met een multi of vitamine B-complex.
Aangezien palmitoylethanolamide en R-alfaliponzuur synergetische effecten hebben bij diabetes is het te overwegen om naast palmitoylethanolamide R-alfaliponzuur te suppleren (ten minste driemaal daags 100 mg). De combinatie van palmitoylethanolamide en alfaliponzuur heeft een pijnstillende en celbeschermende werking.
Palmitoylethanolamide kan ook samen met supplementen zoals acetyl-L-carnitine gegeven worden bij klachten van neuropathische aard. De combinatie met vitamine D3 suppletie kan eveneens zeer zinvol zijn bij chronische pijnklachten.
Veiligheid
Uit de studies naar palmitoylethanolamide zijn geen negatieve bijwerkingen naar voren gekomen, zelfs niet bij ouderen en kinderen. In klinische studies zijn doseringen tot 100 mg/kg lichaamsgewicht per dag gebruikt zonder negatieve effecten (afgezien van onschuldige bijwerkingen die ook bij placebo voorkomen). De LD50 (de dosering waarbij 50% van de proefdieren dood gaat) is niet bepaalbaar, omdat de stof een natuurlijk vet is dat bij het geven van hogere doseringen gewoon verteerd wordt door de enzymen (lipases) van de darm.
Bron: Orthokennis